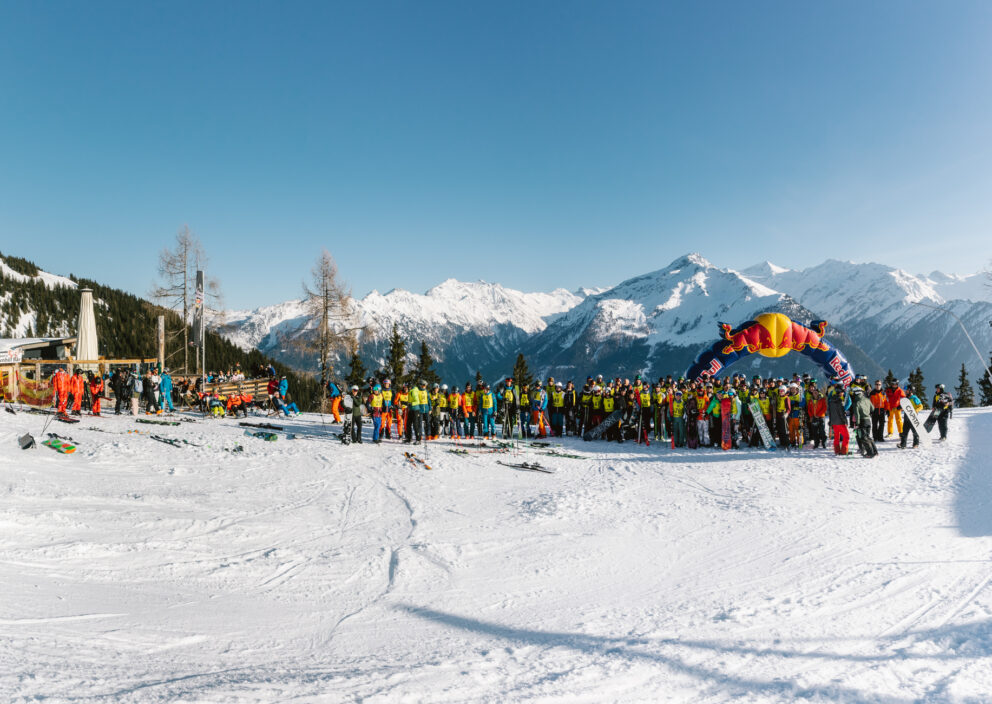 Schweini's Downhill 2023
On 11.03.2023 it starts again!
This race depends on a variety of qualities: Courage, fitness, driving skills, material, tactics and of course fun.
It starts behind the Gensbichlalm mountain station. After the starting gun you run the first 150 m with skis or snowboard in hand up the slope, jump into the bindings and then the difficult part begins, off into the terrain. With a few directional gates and easy jumps, slope crossings, follows the route to Schweinis downhill bar. With a long jump through the Red Bull arch, it goes past the downhill bar and immediately left again into the bypass of the steep slope of the valley descent Neukirchen. To take a little speed out, we change to the draw path in the direction of Stockenbaum. From here on the material and the deepest squat is required. In the shot we turn again in the direction of the taken valley descent. In the late afternoon the valley descent is no longer a honey lick. Who still has strength now, will master the last direction gates and mugeln probably best. From the Thürnerstube the greatest difficulties are mastered.
Sticks under the arms and heat through to the end of the valley descent. Anyone who thinks that they have already reached the finish line is sorely mistaken. The last 350 meters through Marktstraße are completed at a run. Winner or Man / Woman of Schweini's downhill may call itself the one who arrives first at Schweini's. A huge party and barbecue await all participants at the finish line.
Entry deadline: 09.03.2023 until 8 pm;
Entry fee: € 35,- (participation in the race, finisher gift, barbecue plate and 2 drinks).
Inspection of the course: 13:00 – 15:00 hrs
Start number distribution: 12:00 – 14:00 at Schweini's
Course explanation: 16:15
Starting line-up: from 16:45
Start: mass start at 17:00
Finish: 17:30 o'clock
Start at approx. 2.100 m
Finish: Schweini's in the middle of Neukirchen
Route: about 9 km and 1400 hm. The route is not closed off. The general FIS slope rules and the STVO apply.
Entitled to start: Alpine skiing, snowboard, telemark, team classification (at least 3 participants);
Classification: women, men, masters (from 40 years);
Participation only from 16 years: Parents are liable for participants up to 18 years; written declaration;
Duties: Helmet obligation, race suit prohibition, back protector (recommendation);
Party and barbecue: from 17:00, award ceremony: 20:00; afterparty with Apetrape
Be there on 11.03.2023
Registration: Online at info@venediger-lodge.at or directly at Schweini's in the middle of Neukirchen